Community Artist Spaces
The Narrow Group is dedicated to promoting the vibrancy and creativity of the neighbourhoods its businesses are in. We do this by creating dedicated studios spaces throughout East Vancouver where artistically minded people can do creative work in dynamic, active arts environments. We aim to have an encouraging role in the the greater arts community.
Our Studio Features
Our communal artist studios are locked off and secure from the general public, but not locked entirely off from other artists. This provides opportunities for the sharing of ideas, a sense of community and the opportunity to work together cooperatively. Our studios are accessible to 24/7, have wifi, and are in thriving, accessible locations.
Scroll to view all studios, or navigate using the links below
45 West
45 West Hastings Street
13,000 sq feet
15 visual artists
1 dance collective
1 yoga collective
Opened in 2008
45 West Artist Highlights
A tattoo collective with regular and guest artists, accepting both appointment and walk-in clients.
Instagram
Unimpressed is a one-person screen printing shop. They specialize in printing smaller runs of shirts for bands or other small businesses that need affordable custom printed shirts, but don't want to order extra stock simply to get costs down.
unimpressedscreenprinting.com
Instagram
Facebook
City Centre Artist Lodge
2111 Main Street
19,000 sq feet
75 units
100+ artists
Opened in 2022
Photos: VMF, Sabrina Miso Creative
City Centre Artist Lodge Artist Highlights
Accessible, relatable, and attainable art. The mission of TAS is to contribute to the artistic culture of Vancouver by providing diverse opportunities for people to relate to art and artists. It's a space of experimentation and interpersonal communication, with the intention to make people to feel comfortable and welcomed, and for artists to feel represented in a positive and fair way.
theartshop.ca
Instagram
Facebook
Badass calligraphy and design, for the discerning misfits and the wild at heart. LeLe Chan does live calligraphy and engraving for events, as well as calligraphy, stationery design, and graphic design for small and large businesses.
lelechan.com
Instagram
Mallory Donen is a multidisciplinary artist who explores the intersection of digital art and embroidery, through processes rooted in traditional craft passed down from generations of women in her family. Her practice explores repetitive mechanical processes, and our relationship with technology, by making art as if she were a machine.
mallorydonen.com
Instagram
Facebook
Twitter
Godzilla Artist Studios
739/737 Gore Ave
9,000 sq feet
15 visual artists
2 dance collectives
Sewing collective
Pottery collective
Opened 2019
Floorplans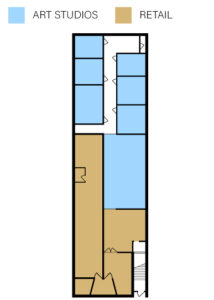 Godzilla Artist Highlights
A warm, sparkly souled, inclusive place to dance, move, explore and be empowered. Vancouver Burlesque Co has created space for all bodies to get in touch with their inner diva, brush up or enhance performance skills, and have a place to indulge in sexy fitness.
vancouverburlesqueco.com
Instagram
Facebook
Juke's Artist Lounge
2343 Main Street
4,000 sq feet
6 visual artists
1 theatre troop
Opened 2021​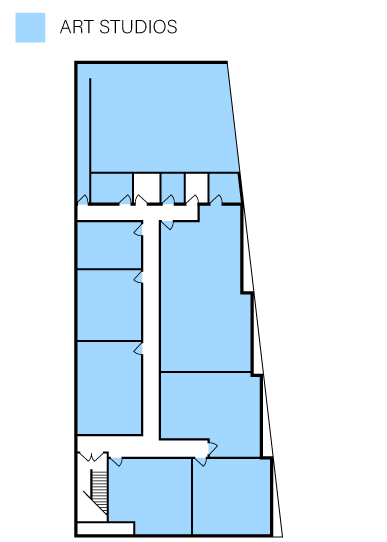 Floorplans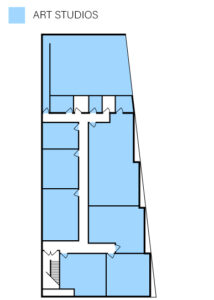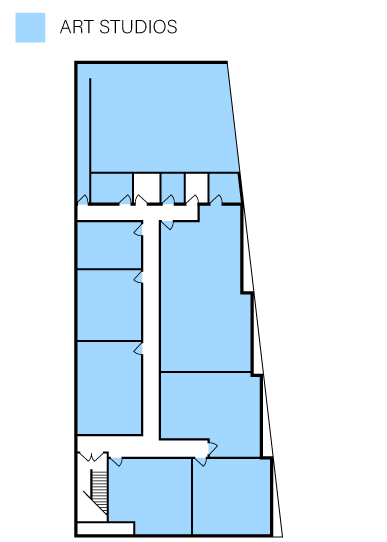 Juke's Artist Lounge Artist Highlights
Striving to advance the art form of improvisation. Tightrope are committed to creating safe and inclusive spaces while inspiring compassion and connection in our community in Vancouver and internationally.
tightropetheatre.com
Instagram
Facebook
LinkedIn
Preserving animals with honour and compassion. Pretty Dead Taxidermy has a shop of curios, as well as offering custom taxidermy services, pet memorial, workshops, and prop work for film.
prettydeadtaxidermy.com
Instagram
Facebook
Artist, architect, and cofounder of Woodford Sheppard Architecture. Winner of numerous award winning projects in the coastal Atlantic region, and published in international magazines including Dezeen and The Globe and Mail Arts. She has been a guest lecturer at a variety of conferences and universities, and an advising member on boards and associations in Canada, including the Canada Council For the Arts, and the Newfoundland & Labrador Association of Architects. Taryn is currently establishing her studio practice in Vancouver with a research focus on architecture and digital culture, and is conducting research in digital fabrication with the Material Matters Research Centre at ECUAD.
Griffin Art Projects profile
Omaha
108 East Broadway
12,000 Sq feet
31 visual artists
2 pottery co-ops
Special needs book store
Opened in 2013
Sa Mesa Ceramics is Kirsten, a ceramicist and founder of Mount Pleasant Clay Club, a pottery studio that also operates from their Omaha studio. They believe in uplifting and supporting other artists of colour and recognizing the privilege that has afforded them to pursue their craft.
samesaceramics.com
Instagram
Colourful abstract paintings on feminism, gender, and queer sexuality. Through abstraction, they transform pain into power, reclaiming core wounding through electrified colour, fluid tubular shapes, and the queer body.
nicolemelnicky.com
Instagram
Facebook
LinkedIn
Shady Acres Artist Studios
1235 East Hastings
7,000 sq feet
16 visual artists
1 wood working collective
Opened 2019​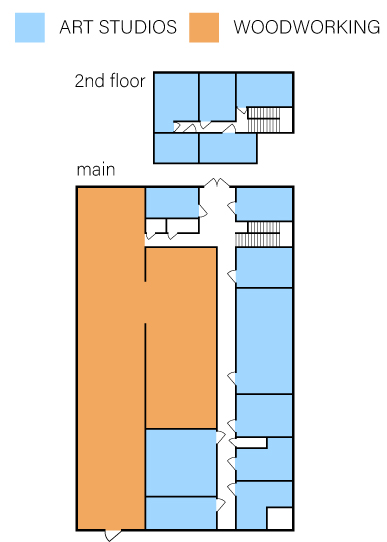 Floorplans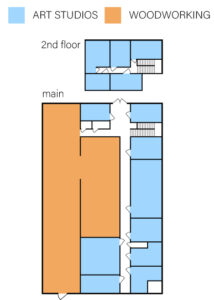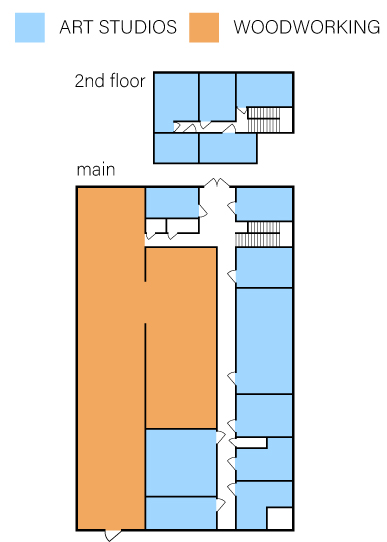 Shady Acres Artist Highlights
Born and raised in Tokyo, Taka takes influences from those totally different environment to create a unique style of art. Scattered abstract elements composed of neon and neutral colours, and collage assembled into organic shapes, to find out strong true energy among real and unreal. The scattered elements in abstraction are the representation of our environment, existence, daily life, and each person's passion and energy.
takasudo.com
Instagram
Facebook
Projekt M is a collaboration between Mara and Michel. In their 18 years together, they have worked in New York City, Montreal, Paris and beyond, designing costumes, accessories, sets and sculptures for opera, theatre, ballet and film. Their style is a confluence of their tastes and skills. Mara was always drawn to particularly modern, brutalist jewellery with a good balance between elegant and rugged, and Michel, had always worked with metals in his sculpture work. Their goal is to present a product that has excellent design, that is sophisticated and unique. Every piece is made with the highest quality silver, often reclaimed and/or recycled. They strive to create heirloom quality pieces that will not go out of vogue in a season or two.
projekt-m.co
Instagram
Zoom Zoom Artist Highlights
An annual event celebrating custom motorcycles, racing, and the authentic spirit of life on two wheels. Ace Moto Show gives tuners, racers, and builders a venue to show off the art, craft and ingenuity to turn ideas into living, breathing two-wheeled wonders.
acemotoshow.com
Instagram
Facebook
Need studio space?
We have multiple art studios around East Van. if you're interested in learning about our availability, please get in touch via the contact form below.